---
Hi guys!
Today I'm reviewing a product that my husband and I recently used for our at-home teeth whitening – The Smile Brilliant T9 Whitening System.
---
Do you love a white smile but hate the actual process of whitening your teeth? If so, I can definitely relate! I love the idea of white teeth, but hate the idea of wearing bulky retainers in my mouth for hours. I've tried lots of different whitening systems, from the strips to the brush on gels, and for me it's always a hassle. It's been a couple of years since I've whitened, and I know that they have some newer options for at-home whitening now, so I decided it was time to look for an alternative that was better than what I tried in the past. Enter: Smile Brilliant's unique, customized trays.
Customized trays that I don't have to go to the dentist to get? Count me in!
I browsed Smile Brilliant's website and realized that not only do they have customized trays, they also have different kits depending on how sensitive your teeth are. This was a plus for me, because I have a problem with white spots remaining on my teeth for a few hours after whitening. I was told that the Smile Brilliant desensitizing gel has ingredients to help with these white spots, so this helped to reassure me that this was the right whitening system for me. My husband also has sensitive teeth and whitening causes some sensitivity for him, so we both chose the T9 system for sensitive teeth. As you'll see in our before and afters, we both have pretty white teeth already, but I was looking for something to give us a little brightening. 🙂 If your teeth aren't as white as ours your results may be even more dramatic, and the kits have enough gel for whitening multiple times.
Of course a teeth whitening system review wouldn't be complete without some pictures…So scroll down for before and afters and some photos of the kit!
---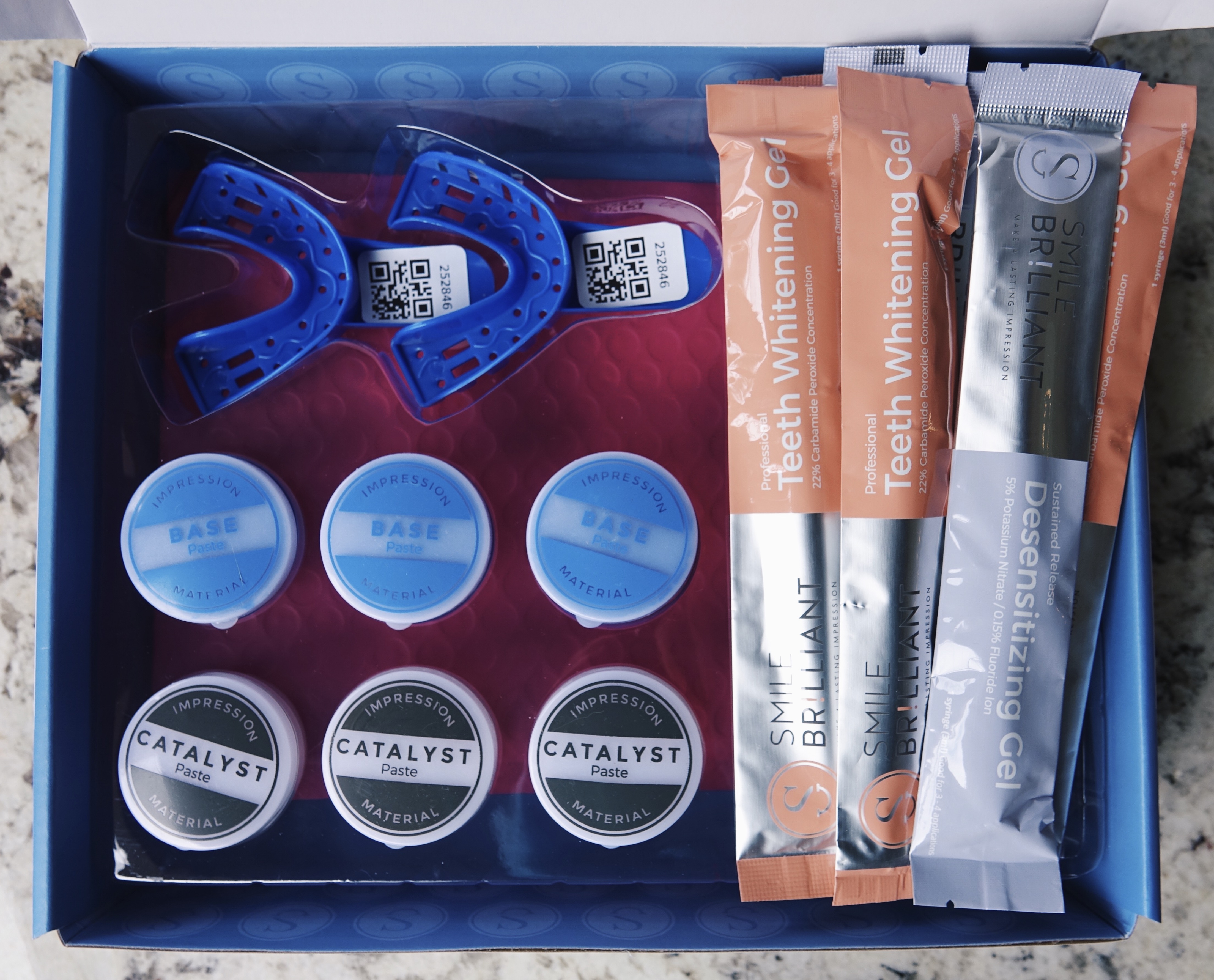 The kit includes –
Bleaching gel

Desensitizing gel

Plastic impression trays

Paste to create your teeth impressions

Like I mentioned previously, there's plenty of whitening gel and desensitizing gel to allow you to whiten multiple times.
To prepare the mold, all you do is hand mix the base and catalyst and place in the blue plastic trays.. Once it hardens, you remove the mold and you're good to go. Super easy!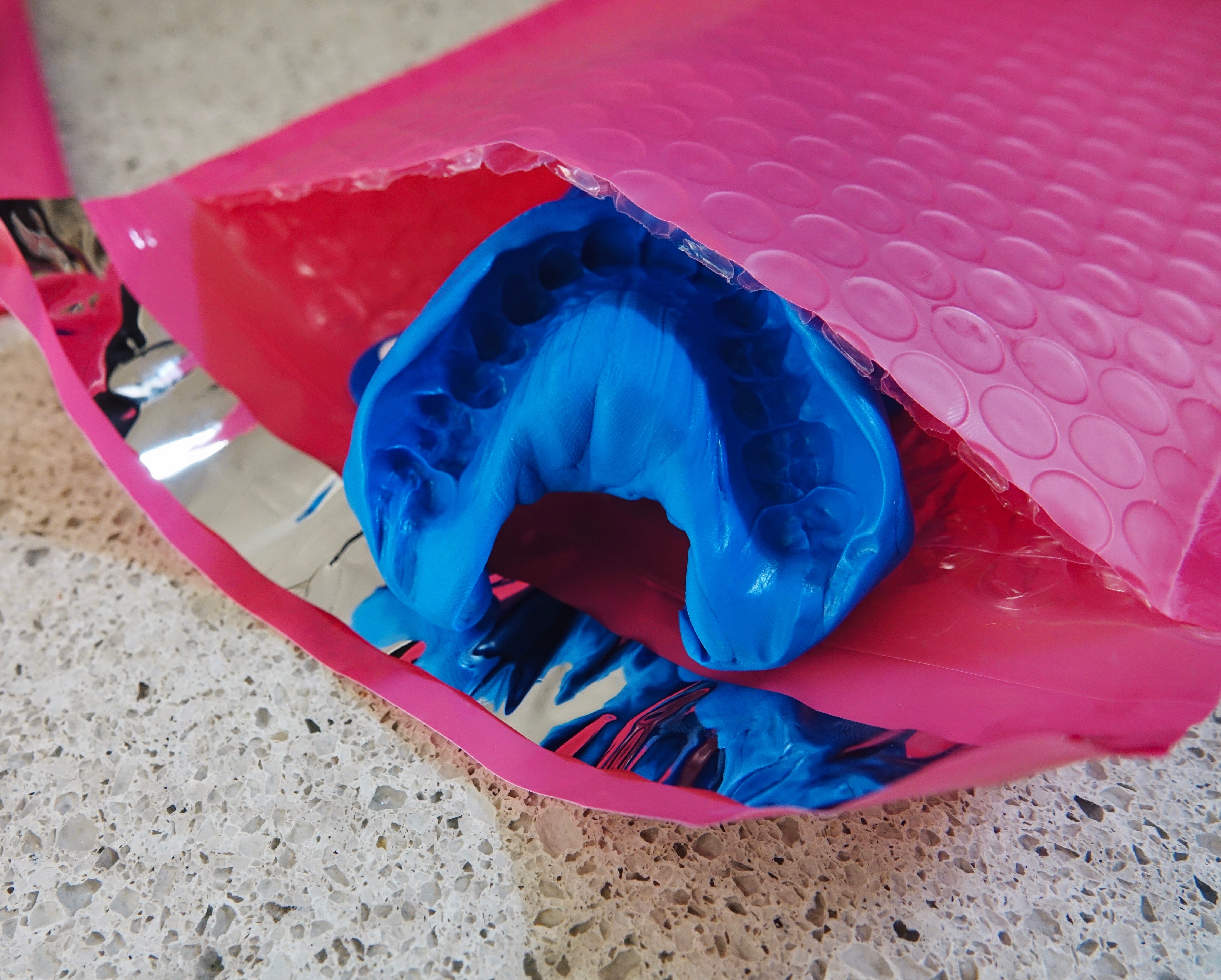 Once your teeth molds are completely dry, they're ready for shipping. It's a really quick and easy process. The kit also comes with a self-addressed envelope for shipping.
We received an e-mail once the lab received the molds, and our customized trays arrived about a week and a half later.
Both molds were a perfect fit for us. They're also thin and flexible, so they don't feel bulky when you're wearing them. For our kit the instructions say you can wear the trays for 45 minutes to 3 hours. We chose to do 45-60 minutes each time. Our results are after 8 uses.

---
Before and Afters

My Teeth Before

My Teeth After
---

My Husband's Teeth Before
My Husband's Teeth After
---
A Few Tips
When creating your mold, make sure you insert your teeth directly into the middle of the trays, and use your hands to push the mold into your teeth firmly.

When whitening, apply the gel mostly to the front of the tray so you don't get spillover into your mouth. 🙂
Final Thoughts
Overall, I'm happy with the results and the ease of use that this kit provides. I do still get white spots if I leave the gel on for a long period of time, but they have faded and seem to just be a normal part of the process for me. We're still in the process of using our kits and will continue to do 45-60 minute intervals.
If you're looking for an at-home whitening kit that's straight forward and offers results, I would recommend Smile Brilliant as one that's worth a try. Right now you can also save 10% by using my promo code "lifefrosting".
Thanks for reading; I hope you find this review helpful!
This product was received in exchange for my honest review. Although this post is sponsored, all opinions are my own.